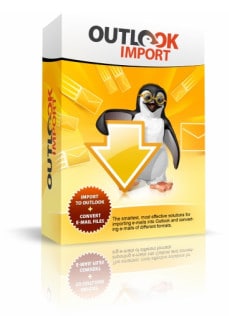 Now you can import EML to Outlook with a simple 1-2-3 click approach for importing and exporting your email archives while preserving folders and email organization. No more time-consuming re-organization of your email folders and file structure – simply click and go.
With one simple download you get all of the following benefits and much more…
Outlook Import Wizard – Outlook Import Wizard converts email from standard mainstream formats (.EML, .EMLX, .MSG) of email applications such as The Bat, Live Mail (Vista Mail) and Windows Mail, Thunderbird and Outlook Express and maintains the email file structure so you keep your emails and your organization and be able to instantly make use of Microsoft Outlook's advanced email features and integration with the MS Office Suite.
Key benefits of Outlook Import Wizard
Compatible with 64-bit MS Outlook – Outlook Import Wizard will work with the 64-bit Microsoft Outlook standard, so you have the most complete range of options for working with your emails in Outlook.
Multiple Email Archives – using Outlook Import Wizard's Batch Mode you can establish a batch queue and manage the transfer of multiple email archives and transfers into multiple .pst files at the same time.
Email Filtering – Outlook Import Wizard provides you with the ability to filter emails according to preset conditions, such as by email size, date or attachments.
E-mail Conversion – It gives you the ability not only import EML and MSG files to Outlook but also convert email files between most popular email formats such as: MSG, EML, EMLX and PST.
Save Time – Save Money – Save Your Emails
Import EML files to Outlook with ease and never have to waste your time in figuring out how to import emails into your Outlook account – Outlook Import Wizard from Outlook Import will handle all of the work for you in a simple, step-by-step process.
Outlook Import Wizard is a fast download which converts email files of .EML, .EMLX and .MSG formats from almost any email application into a format suitable for use in Microsoft Outlook. Now you can make full use of the enhanced functionality of MS Outlook, including integration with MS Office tools and bespoke company applications designed to work with it.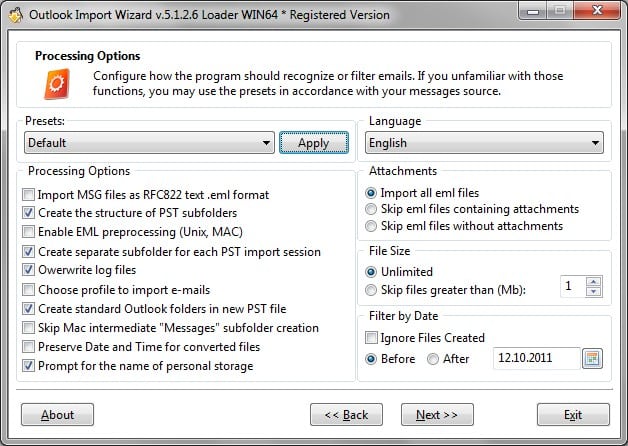 Simple – Easy – 1-2-3
Outlook Import Wizard does so much more than import eml to Outlook – all of your folders are transferred too, so you need not waste any time getting yourself organized again – just hit the transfer button and Outlook Import Wizard will do the rest.
Do you use Eudora or any other Unix-based email client? Haven't figured out how to convert the email files so you can switch them to Outlook? How much information have you tied up in old .MBOX email applications which you cannot search or manage effectively and is simply going to rust?
Outlook Import Wizard not only provides an import eml to Outlook tool which has blown the competition away, but there is also a free .MBOX converter to let you bring even more of the latent value you have in Unix-based email applications under the MS Outlook umbrella.

With the Outlook Import Wizard from Outlook Import you can:
Import eml to Outlook – eml to pst and msg to pst
Import emails of .EML, .EMLX and .MSG formats
Get organized by smoothly transferring your files and folders in no time
Get a free .MBOX converter to let you bring even more options and added value to your Outlook Import handy kit.
Outlook Import Wizard from Outlook Import
Import EML to Outlook with free .MBOX to EML Convertor – a $39.99 value for FREE!
DOWNLOAD OUTLOOK IMPORT WIZARD with FREE .MBOX CONVERTER

Users about Outlook Import Wizard
The software did exactly what I needed. I've switched to a full Outlook client under Windows 7 now that the Windows Mail app is going away. All of the data from Windows Mail was imported successfully. At this point, I completely satisfied.
Rod Andrews 
I have bought and used Outlook Import Wizard for a couple of days and I have to say how brilliant this software is. Your team have done a wonderful job – makes my work so much easier, especially to be able to convert directories of the hard drive to Outlook folders.
Sam Young
I have been looking for a tool to convert my e-mail EML files to Microsoft Outlook. I have found the Outlook Import Wizard and managed how to import all my EML files including the folder structure in seconds. Quick and user-friendly and easy to use software.
Andrew Daniels